Frequently Asked Questions about MOT Maintenance of Traffic:
Why should you care about temporary traffic control?
The 2010 statistics for Fatalities in Work Zones in Florida is not good. As you can see in the table Florida is second in the nation on behind Texas for the highest number of fatal workzone fatalities. In comparison, other populated states like New Jersey and New York have only a small fraction of the workzone incidents that we have in Florida.
Why is MOT needed?
Here is what the DOT says: Work zone traffic control is necessary in providing a safe environment in areas where workers and transportation modes may compete for common or adjacent space to reduce the risk of injury of workers and transportation users. Proper training of all personnel involved in the planning, design, supervising, implementations and maintenance of work zone traffic control is necessary. In practical terms, MOT is needed to ensure workers and the public alike can work or go through a work zone without getting hurt.
What are the 4 MOT training categories?
Basic-

This course is required for anyone who conducts flagging operations.

Restricted Activities-

This course is required for everyone who has the direct responsibility for placement of work zone traffic control devices in the utility industry only. Since this course limits what your employees can do most companies even utility companies provide intermediate level of training for their employees.

Intermediate-

This course is required for anyone with duties that include any of the following activities:
Direct responsibility for placement of work zone traffic control devices
Direct responsibility for field maintenance of work zone traffic control devices
Inspection of the placement or operational function of work zone traffic control devices
Drafting or electronic generation of work zone traffic control plans The intermediate level of training is by far the most common level of training in the state!
Advanced-

This course is required for personnel with responsibility or authority to decide on the specific maintenance of traffic requirements to be implemented such as the engineer responsible for the work zone traffic control plan development. This level of training is rarely required unless you have to sign and seal the Traffic Control Plans.
How long are MOT certifications good for?back to top
Training or refresher courses for all four levels of MOT training are required every four years. Of course any higher category may be substituted for a lower course category. Example: Basic Training requirements can be met by completing the Restricted Activities, Intermediate, or Advanced Training courses.
What are the prerequisites of these classes?
Basic Training, Restricted Activities Training, and Intermediate Training - No experience necessary
Advanced Training - One year experience in work zone traffic control or responsible for work zone traffic control plan development
Refresher- The appropriate category refresher course taken before and must be current!. A failing grade on the refresher test will require you to complete the full course.
What is the length of each course?
Basic - 4 hours
Intermediate - 16 hours
Intermediate refresher & Restricted level – 8 hrs.
Advanced level- 20 hours
Is MOT training provided in Spanish?
Nope. The FDOT does not permit providers of MOT training to offer the class in any language other than English. You may ask why? The answer is that the 600 series design standards, which are essentially the backbone of the entire MOT process in FL are written in English and require a person who can fluently speak and read English.
Where do I go for training?
Although there are several MOT providers some of which I have used in the past I always recommend doing your MOT training with Safety Links.

I don't want to sound bias and no they are not giving me a kick back. They are just really good! Here is why?
They offer onsite classes throughout the state and are one of the only MOT providers who has monthly scheduled classes open enrollment. This is perfect for the stragglers who couldn't make it to your onsite class.
While most MOT instructors are contractors who teach on a part time basis at numerous MOT providers, Safety Links has full time employees dedicated to MOT instruction. This means that their flexibility with dates, times and locations is unmatched. Oh yea, if you like one of the other contract instructors they all work for Safety Links as well.
Safety Links is only one of 3 or 4 other providers in the state that offers "Restricted MOT training in addition to the more popular Intermediate level training. If you are a utility company this is something you need to know!
Safety Links prices are some of the lowest in the state. In fact, before they came around other providers were offering the intermediate training for $300 to $400 a person. What a rip off! When Safety Links came into the picture they set their Intermediate price at $180. As a result the other vultures had to also lower their price. That is capitalism at its finest!
They have great certificates. No laminated paper here. They provide hard plastic drivers license style wallet cards that will last the 4 years they need to.
Hands on training- Most MOT trainers are PowerPoint based and use the standard state PowerPoint version (boring!!). The Safety Links instructors have an amazing visual presentation with plenty of hands on activities and case studies. They even have tiny streets, equipment and traffic control devices that come in handy when figuring out how this stuff works.
Group discounts. I have used them for onsite classes 2 times in the last year now. They provide discounts for groups larger than 5. You can save as much as 20% depending upon the size of the class. That's only $144 a person for the intermediate level. Wow!
Lastly and probably most importantly

they have great customer service, flexibility and quick turnaround times

. You can literally book a class, conduct a class and receive certificates for the students within a couple of days of your call. Seriously they did it for me. It was amazing! back to top
Here is their information:
Safety Links Inc.
4602 35th Street, Suite 400. Orlando, FL 32811
Toll Free 1-800-768-7036
info@safetylinks.net
For more info and to enroll for their open classes visit http://www.safetylinks.net/index.php/training/mot-traffic-control
What should you receive after you take a MOT course?
The state requires each person to receive a wallet size card with their id, provider's id, ID#, instructor's id, course category, date of the course, and expiration date. A couple of providers are still issuing wall certificates too but most are not.
Who enforces the MOT requirements?
To make it easy the answer is everyone. If you are trying to obtain a permit for any job near the road way the local, county, or state office will want to see your MOT training credentials and may even require a traffic control plan. In addition inspectors and building officials will stop to inspect your jobs to make sure they are compliant. Non-complaint job will be shut down until the MOT issues are corrected.
Here is an example of the MOT requirements for Orange County FL….
An approved Maintenance of Traffic (MOT) Plan shall be required any time work is being performed within the Orange County Right of Way regardless whether a permit is required or not. A MOT plan shall conform to the latest edition of the FDOT Design Standards 600 series and The Manual on Uniform Traffic Control Devices (MUTCD). A copy of the MOT plan shall be kept on site at all times. The MOT plan is valid for the duration of the approved time period or completion of the project, whichever come first. The contractor shall have the responsibility of the setup and removal of all MOT devices when required.
Traffic Control Liability: back to top
More importantly the tort attorneys will enforce the requirements through law suits. When there is a crash in your work zone you can almost bet on it that you will be held liable.
Think about it… only 15% of those killed in work zones are workers. The other 85% are drivers or vehicle occupants. Even worse more than 40,000 people (in US) are injured each year as a result of motor vehicle crashes in work zones.

Considering the scope of injuries and fatalities that occur within work zones how many of these injuries and fatalities do you think eventually become lawsuits and general liability claims against the entities involved?

The answer is over 60%

How well would your company be able to defend itself against similar allegations?

Would you be able to prove that your company was not negligent and the proximate cause of the accident?

This is serious stuff!
Where can I find the standards for traffic control?
First, the Manual on Uniform Traffic Control Devices, or MUTCD defines the standards used by road managers nationwide to install and maintain traffic control devices on all public streets, highways, bikeways, and private roads open to public traffic. The MUTCD is published by the Federal Highway Administration (FHWA) under 23 Code of Federal Regulations (CFR), Part 655, Subpart F.

The MUTCD, which has been administered by the FHWA since 1971, is a compilation of national standards for all traffic control devices, including road markings, highway signs, and traffic signals. It is updated periodically to accommodate the nation's changing transportation needs and address new safety technologies, traffic control tools and traffic management techniques.

The 2009 Edition of the MUTCD became effective on January 15, 2010. The PDF version of the 2009 Edition of the MUTCD is the most current edition and is available for download at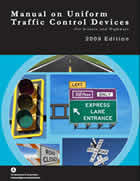 http://mutcd.fhwa.dot.gov/pdfs/2009/mutcd2009edition.pdf
The Florida Design Standards can also be downloaded in their entirely as well.

Download the 2010 (Current) Florida MOT 600 Series Design standards. http://www.dot.state.fl.us/rddesign/DS/10/IDx/600grp.pdf

You can also download the 2012 version at http://www.dot.state.fl.us/rddesign/DS/12/Ser/TrafficControlThroughWorkZones.pdf